SOURCE: Vol. 18, No. 4 AUG – 1988 Circus Fanfare

Joseph John Richards was known as an outstanding cornetist, bandmaster, composer of band music, and music educator. He was born in the mining district of southern Wales, not too far from Cardiff, in 1878. At the age of four he was brought to the United States by his parents when they immigrated. The family settled in the mining district of southeastern Kansas, near Pittsburg.
It was soon discovered that young Richards possessed a great deal of natural musical ability. As a boy he learned to play the alto horn, trombone and cornet. Soon he was playing in the Pittsburg town band and served at various times as its bandmaster. When 19 years of age, Richards answered an advertisement and took on the challenge of organizing a 10-piece band for the Norton & Jones Circus, of which he served as bandmaster for several years. However, in 1902 he left the circus for a time and went on the road with the Josh Spruceby Company.

In 1906 J. J. Richards joined the circus band of the Adam Forepaugh & Sells Brothers Enormous United Shows, playing solo cornet. That was the first year that the Ringling Brothers took over and managed that circus. In 1908 the same Ringling Brothers acquired the Barnum & Bailey Circus which came under their management as a separate show. With this change of events, the Forepaugh & Sells Brothers Circus did not go on the road that year or 1909. However, Richards was transferred over to the cornet section of the Barnum & Bailey band under Bandmaster Fred Jewell for that period.
In 1910 and 1911 when the Ringling Brothers put three major circuses on the road, J. J. Richards was the bandmaster of the Forepaugh & Sells Brothers Enormous United Shows during those last two·years that that circus was in existence. With the retirement of Albert C. Sweet as bandmaster of the Ringling Brothers Circus at the end of 1911, J. J. Richards took over those duties, serving as bandmaster for the Ringling Brothers Circus from 1912 thru 1918.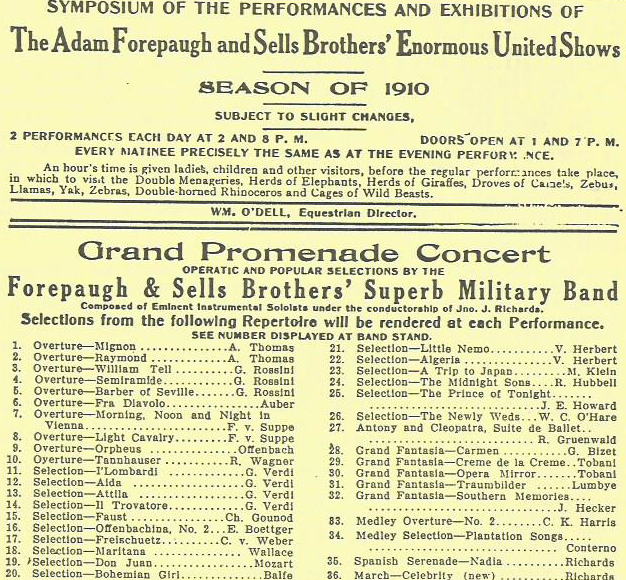 It should be noted that in 1910 the Forepaugh & Sells Brothers Circus billed Richards as John J. rather than his given name of J. John.
C. L. Barnhouse began to publish the band music of J. J. Richards in 1909 with the circus march entitled "The Show World." However, Richards gained far more fame in the circus world of that day as the composer of superb circus galops, rather than marches. His "Visalia Galop," also published in 1909, is still one of the greatest American circus galops and is readily available from its current music publisher. With Richards' reputation established in the galop field, Barnhouse also published "Geneva Galop" that same year, "Con Celerita" in 1911, "Speedway Galop" in 1912, and "In Fretta" in 1926, all by Richards whose "The Meteor" galop was published by the Fillmore Music House·in the year 1915. J. J. Richards composed additional successful circus marches during his circus years and these included "Celebrity" and "Okolona" in 1910, "Rameses" in 1911, and "Cotuit Park" in 1918, all by Barnhouse who much later published Richards' "Kansas City-Florida Special" in 1928 and the "Wichita Beacon" in 1936, both fine stirring circus marches. The Willis Music Co. published his circus march, "The Barnum," dedicated to Fred Jewell, in 1910.
During the years that Richards was bandmaster for the Ringling Brothers Circus, the months when the show was in winter quarters were spent studying music at the Kansas State Teachers College in Pittsburg and the American Conservatory of Music in Chicago. That is, until the first World War when Richards taught music at the US Army School of Music at Camp Grant, Ill., when available.
After leaving the circus, J, J. Richards was well prepared as a music educator. Thus in 1920 he began teaching music in the public schools of Pittsburg, Kansas, also directing the local Shrine band. During the late '20s and early '30s he directed the concert band in Bradenton, Florida during the winter, returning to Pittsburg as bandmaster of the Pittsburg Municipal Band during the summer months.
In 1937 J. J. Richards moved to the scenic Rock River valley of Illinois, making his home in Sterling where he taught music in the public schools and conducted the Sterling Municipal Band. Also it is reported that he conducted the band across the river at Rock Falls, and the Kable Brothers Printing Company Band at Mount Morris, Ill., where their gigantic printing plant was located. He wrote his march entitled "Salute to Sterling" for Sterling, Ill., and this was published by Barnhouse in 1938. It is also said that Richards taught school up the Rock River at Rockford, Ill., at one time.
In 1945 J. J. Richards moved to Long Beach, California, and took over the duties vacated by the late Herbert L. Clarke as conductor of the famous Long Beach Municipal Band. After five years in that position, Richards retired from that band at the age of 72. However, he didn't stay retired except in the fall and winter which he was to spend in California. Each spring he returned to Mount Morris, Ill. to start practice as bandmaster of the Kable Brothers Concert Band which gave band concerts all summer long.
In 1956 at the age of 77, J. J. Richards departed from this world at Long Beach.
In 1981 J. J. Richards was elected to the Windjammer Hall of Fame, an honor that he justly deserved.
The first publication of J. J. Richards' music was by Richards himself. During the Spanish-American War when he was bandmaster for the Norton & Jones Circus, Johnny Richards composed a patriotic march entitled "Salute to Uncle Sam" which he published for piano only in 1899.
His band compositions were divided into two distinct groups. First there was his circus music which was published by Barnhouse, Fillmore and Willis between 1909 and 1935. After he left the circus at the end of 1918, Richards began to compose music that appealed to· midwestern town bands and to school bands. In other words, Richards changed his style of composition for his second group that was published by Barnhouse, Fillmore and Willis, plus the Jenkins Music Company of Kansas City between 1920 and the early '50s.
Two marches of Richards' carry titles related to his native Wales. "Port Conway" relates to the town on the north coast of Wales near the mouth of the River Conway, the location of the famous Conway Castle. The other march is entitled "Cwmavon" which is the town where Richards was born. Unfortunately, there are two towns or villages by that name in southeastern Wales, neither far from Cardiff, being barely 40 miles apart and in adjacent counties. There is Cwmavon (County Monmouth) and Cwmavon (County Glamorgan), but Richards didn't identify which in his title and there are many others, as well as other mines in both areas.
Popular marches of the later group by Richards include the following published by Barnhouse: "Great Plains" and "Waltonian" in 1928, "Pride of Missouri" in 1929, "Homecoming" in 1931, "Midwest" in 1932, "The Westerner" in 1934, "Shield of Liberty" in 1939, "Carry On to Victory" in 1942, "American Ranger" in 1944, "West of the Rockies" in 1946, and "Golden Bear" in 1948. There were two concert marches of note: "Emblem of Unity" of 1941 which was his most popular composition of later years, and "Crusade for Freedom" of 1951, both by Barnhouse. Then there was an overture of note entitled "Triumph of Alexander" that came out in 1936, and another in 1938 called "Charlemagne." Finally back in 1933 a difficult cornet solo, "Sunbeam Caprice," also from Barnhouse.
For school bands Richards composed the music for three march-size band folios: "Academy Band Book" by the Jenkins Music Company of Kansas City in 1934, and "Sweet Sixteen March Folio" Volume I and Volume II, both by Barnhouse. Also a single novelty march, "Susanna" in 1936.
J. J. Richards arranged considerable music for the C. L. Barnhouse Co. Most notable were "March of Time," a march melody for the 50th Barnhouse Anniversary in 1936 and "March of Time No. 2" for the 55th anniversary in 1941.
J. J. Richards certainly earned the title, "All-American Bandmaster and Composer."